National parks in the Great Plains area offer some of the most otherworldly landscapes in the country, ranging from colorful pools of almost-boiling water, to multiple colored, layered cone-shaped formations, to snow-covered mountains. Driving through these wide expanses of unspoiled nature offers a glimpse into what the pioneers might have experienced crossing the country in search of riches and a better life. Throughout the area, the National Park Service manages lots of sites for travelers looking to disconnect from the hustle and bustle of the world around us, and to ditch modern conveniences for clear skies, fresh air and casually roaming wildlife.
How to stay near Yellowstone, Badlands and Rocky Mountain national parks on points
If you collect points in any of the major hotel loyalty programs, you can explore the parks of America's Great Plains without using your hard-earned cash. Here's a look at some of the lodging options around Yellowstone, Badlands and Rocky Mountain national parks where you can redeem your points for an unforgettable national park experience.
Yellowstone National Park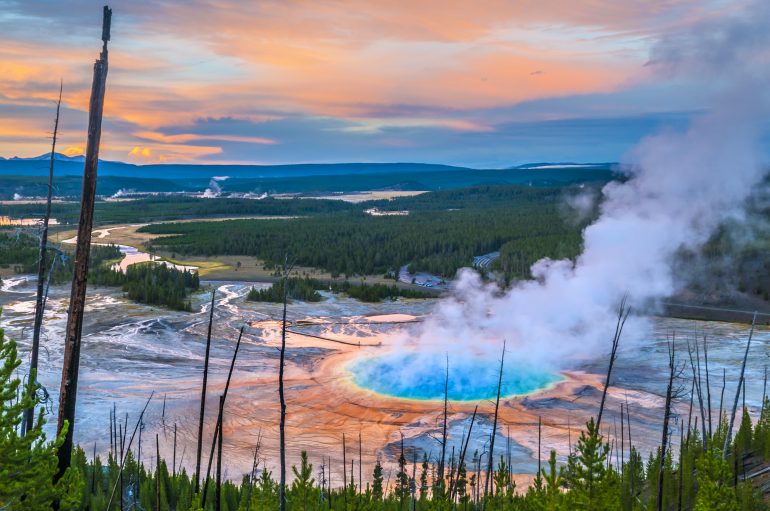 Yellowstone is one of the most out-of-this-world places you can visit without leaving the planet. From the colors of the Grand Prismatic Spring to the almost guaranteed sight of an eruption from the Old Faithful geyser and Mammoth Hot Springs, there isn't a corner of this park you can afford to miss. Yellowstone is home to the largest herds of wild bison of any public land, as well as wolves, bears, elk, bighorn sheep, pronghorns and other species that call our Great Plains home.
Drive through Mammoth town before sunset to see elk meandering around town, grazing the lawns of public buildings. For some solitude and the best wildlife sightings, beat the crowds by showing up before 7 a.m.
SpringHill Suites Island Park Yellowstone
Recently — and beautifully — renovated SpringHill Suites is about 30 minutes away from the park, is a pet-friendly property, and offers free breakfast, free parking (including a charging station for electric vehicles) and a pool. This is a Category 6 Marriott hotel, so a night here will cost anywhere between 40,000 and 60,000 Bonvoy points.
Hilton Garden Inn Bozeman
Standard yet well-kept, the Garden Inn in Bozeman, Montana, offers an indoor pool, free parking and even an airport shuttle if you need one. For the dates we checked, it goes for 49,000 points per night, but run your own search, as Hilton has dynamic pricing.
Holiday Inn West Yellowstone
Arguably the best-located hotel in the area, the Holiday Inn in West Yellowstone is a no-frills property, for the most part, but does have an indoor pool. Plus it's pet friendly and has free parking. Kids under 18 stay for free when sharing the parents' room, and kids 11 and under eat for free at any time of the day in any of the on-site restaurants, making this a great choice for families. An award night here is 27,500 IHG points.
Kimpton Armory Hotel Bozeman
This brand new Kimpton caters to luxury seekers who like to kick back in upscale accommodations after a day exploring the rugged outdoors. The rooftop pool offers stunning views of the surrounding mountains, while the casual fine-dining fare at Fielding's restaurant includes seasonal creations made with ingredients sourced from local growers. Travelers looking to redeem IHG Rewards points here will find rooms for around 40,000 points per night.
Grand Teton National Park

Only 10 minutes south of Yellowstone and sharing its name with the Teton mountain range, this park boasts lakes, glaciers, rivers, mountains and beautiful meadows. Because it's so close to Yellowstone, you can see many of the same animals — bison, elk, moose, grizzlies and more — while avoiding the crowds at more popular Yellowstone.
SpringHill Suites Jackson Hole
This very new and modern SpringHill Suites in Jackson Hole is a top choice for a stay near Grand Teton park, with a pool and free breakfast. Parking is $15 a day, and there are three electric vehicle charging stations. This SpringHill Suites is not pet-friendly.
As a Category 6 hotel, the nightly rate ranges between 40,000 and 60,000 Marriott Bonvoy points.
Homewood Suites by Hilton Jackson
This hotel is rather utilitarian, with no flair whatsoever, but works just fine if you're planning on spending a full day at the park. It does offer a nice indoor pool, free parking and free hot breakfast, and is pet-friendly. An award night on a random date we checked goes for 70,000 Hilton Honors points, but your rate could vary.
Mr & Mrs Smith Caldera House
The Mr & Mrs Smith brand tends toward unique, modern properties. The Caldera House, new to the IHG Rewards program, has no availability for points booking just yet, though IHG's website says to expect booking availability soon. You can also expect steep rates: The cash price for rooms starts as high as $2,000 per night.
Badlands National Park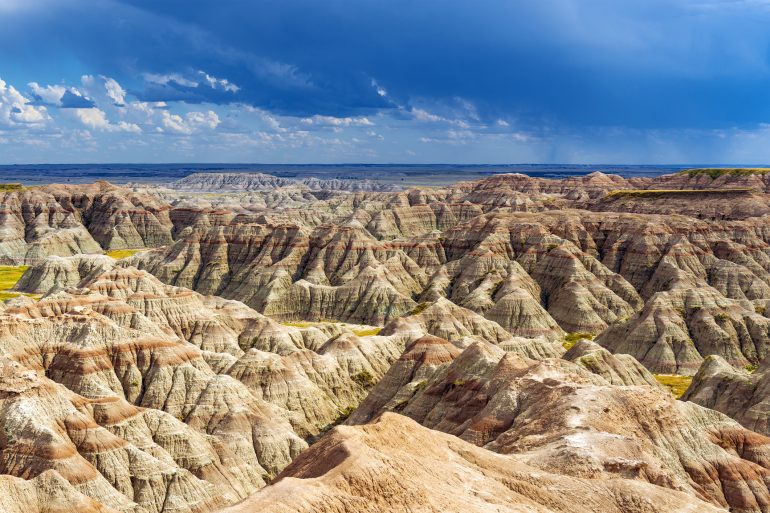 One of the world's richest fossil beds, the Badlands are full of hiking trails that take you through prairies, grasslands and what was once an ancient sea that dried up millions of years ago. This is a fantastic area for stargazing — it's far enough from cities that there's very little light pollution.
Courtyard by Marriott Rapid City
A new hotel in Rapid City — the largest town near the park — this stylish Courtyard is more modern than you'd expect. There's free parking with electric car-charging stations. But there's no pool, and this hotel isn't pet-friendly. The rate for this Category 5 hotel is between 30,000 and 40,000 Marriott Bonvoy points per night.
Hotel Alex Johnson Rapid City, Curio Collection
Arguably the most interesting property by Hilton in Rapid City, the Hotel Alex Johnson welcomed its first guests back in 1928. Part of Hilton's Curio Collection, an assortment of very unique properties, today's Hotel Alex Johnson is luxurious and modern, with several good dining options, and is pet-friendly. The rate for the days we checked was 25,000 Hilton Honors points per night, but your redemption rate may vary.
Staybridge Suites Rapid City – Rushmore
This is a perfectly standard Staybridge Suites with full kitchenettes ideal for longer stays and larger families sharing a suite. Pleasant outdoor areas feature barbecue grills, there's an indoor pool, and parking is free. IHG Rewards Club members can book award nights here for around 22,500 points each.
Rocky Mountain National Park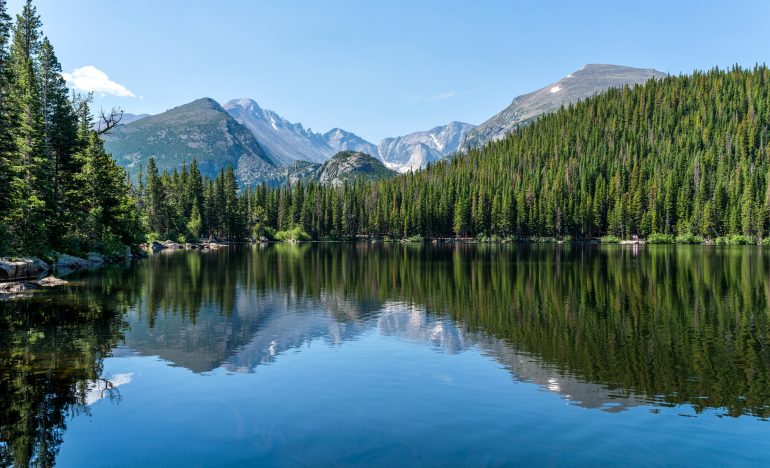 With 355 miles of trails, some at elevations higher than 12,000 feet, Rocky Mountain National Park pretty much sums up everything that makes Colorado special. Outdoor activities aplenty, including bicycling, climbing, fishing and horseback riding, are all available, and if you have never hiked or biked at altitude, you are in for a challenge.
During the COVID-19 pandemic, timed entry permits are required for all visitors, so head to the NPS website to reserve your admission.
Hyatt Place Denver / Westminster
Like most Hyatt Place properties, this one is very modern and well maintained, with free parking, free breakfast and an indoor pool. Rooms are spacious and well laid-out.
Residence Inn Boulder Canyon Boulevard
This is not your run-of-the-mill Residence Inn. Built in 2017, it's super modern and uncommonly stylish. Being a Residence Inn, its rooms are spacious and there are lots of great amenities. Breakfast is free. This hotel is pet-friendly, and there is a parking fee of $20. Being a Category 5 Marriott hotel, you will need between 30,000 and 40,000 Bonvoy points per night.
Home2 Suites by Hilton Longmont
Ideal for families who like the freedom of prepping some meals at the hotel and storing them in the fridge, this Home2 Suites in Longmont is a great option that also has you covered in the free breakfast department. Parking is free as well, and you can bring your pet along. Plus, there's an indoor pool. We found rooms for 28,000 Honors points per night, but check your exact dates, as Hilton Honors award pricing is dynamic.
Kimpton Hotel Born
This Denver Kimpton hotel offers a luxury retreat after a full day of hiking at a national park. Being a new property, everything looks like it's just been built, and the contemporary design makes you want to linger. This hotel is pet-friendly and, like most Kimpton hotels, is geared toward young, hip clientele, offering free bicycles and yoga mats in every room, and they have a state-of-the-art fitness center with Peloton bikes. The nightly rate is 30,000 IHG points.
Parks and more parks
When you visit a national park, you may be within a short drive of other can't-miss stops including state parks and historic and cultural sites. For example, when you're around Badlands National Park, you could take a detour to the Minuteman Missile National Historic Site, as well as Mount Rushmore and even Wall Drug Store — the famous tourist trap — for a quick 5-cent coffee and fresh doughnuts.
While visiting Yellowstone or Grand Teton, Jackson Hole in Wyoming should be on your itinerary. In this quaint mountainside town, you can enjoy gondola rides uphill for the view, plenty of hiking and, if you're brave enough, can climb up a giant boulder at the Via Ferrata.
How to Maximize Your Rewards
You want a travel credit card that prioritizes what's important to you. Here are our picks for the best travel credit cards of 2020, including those best for: